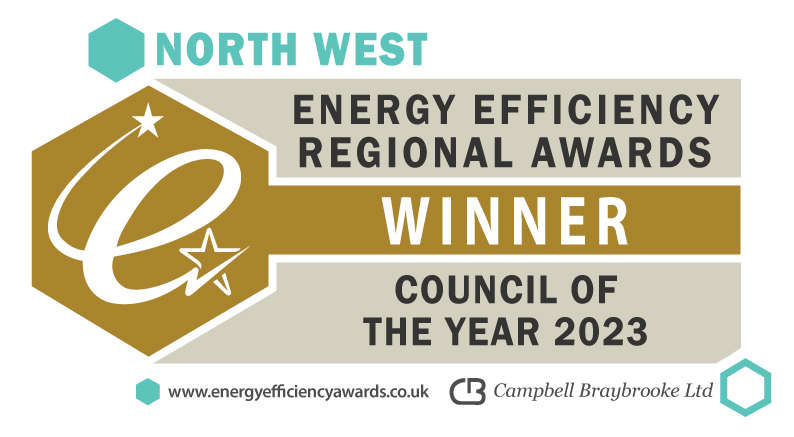 Cheshire West and Chester Council has won the Local Authority Body of the Year Award at the North West Regional Energy Efficiency Awards.
The Energy Efficient Awards are open to anyone involved in the energy saving and efficiency sector in the UK and recognise best practice in energy efficiency projects that took place between January 2022 and March 2023.

As part of the Council's target to achieve carbon neutrality by 2030 for Council services and 2045 for the borough, a number of energy efficiency schemes have been introduced to reduce the amount of energy being used across Council services.
14 council buildings* have switched from primary gas heating to air source heat pumps and had solar photovoltaic systems and LED lighting installed, where appropriate, thanks to £5.8 million of funding secured through the Public Sector Decarbonisation Scheme (round one).

A further four schools have been supported to install energy efficiency measures including air source heat pumps, LED lighting conversion, solar photovoltaic systems, roof refurbishment with additional insulation and installation of double glazing, where appropriate, thanks to £3.5 million of funding through the Public Sector Decarbonisation Scheme (round 3a).

Streetlights across the borough have finished being converted to LED lighting, during the second round of improvements to the street light service. This is helping to reduce the electrical demand across the borough by 9GWh per year, the equivalent of the electricity use in 2,000 average homes. The reduction of demand has saved around £2 million pound in energy costs.
The Council's awards submission will now be entered into the national Energy Efficiency Awards, with results to be announced in September.
The Council continues to invest in ways to reduce energy use across the borough and, this year, has plans to refurbish leisure centres, libraries and schools with further energy efficiency measures. Home Upgrade Grant funding has also been secured to improve the energy efficiency of homes in the borough which are not heated by mains-gas and have an Energy Performance Certificate (EPC) of Band D, E, F or G.
Cllr Matt Bryan, Cabinet Member for Climate Emergency, Energy and Green Spaces, said: "Since declaring a Climate Emergency in 2019, we've been working hard to reduce carbon emissions across Council-owned buildings to help us achieve our target of carbon neutrality by 2030. With the energy market continuing to fluctuate, this has saved the Council money and cut the amount of energy we're using, and I'm pleased we've been recognised for these improvements by winning this award."

The Council has also set up a Climate Emergency Inspire Hub, providing residents with advice and tips to help reduce their carbon footprint and make energy saving measures. Individuals and organisations are encouraged to share what energy saving measures they are making on the 'your stories' section of the website too.
Visit the Climate Emergency Inspire page:
www.cheshirewestandchester.gov.uk/tackleclimate
* The 14 council buildings that received funding during round one of the Public Sector Decarbonisation Scheme included six leisure centres, four corporate council buildings and four schools.