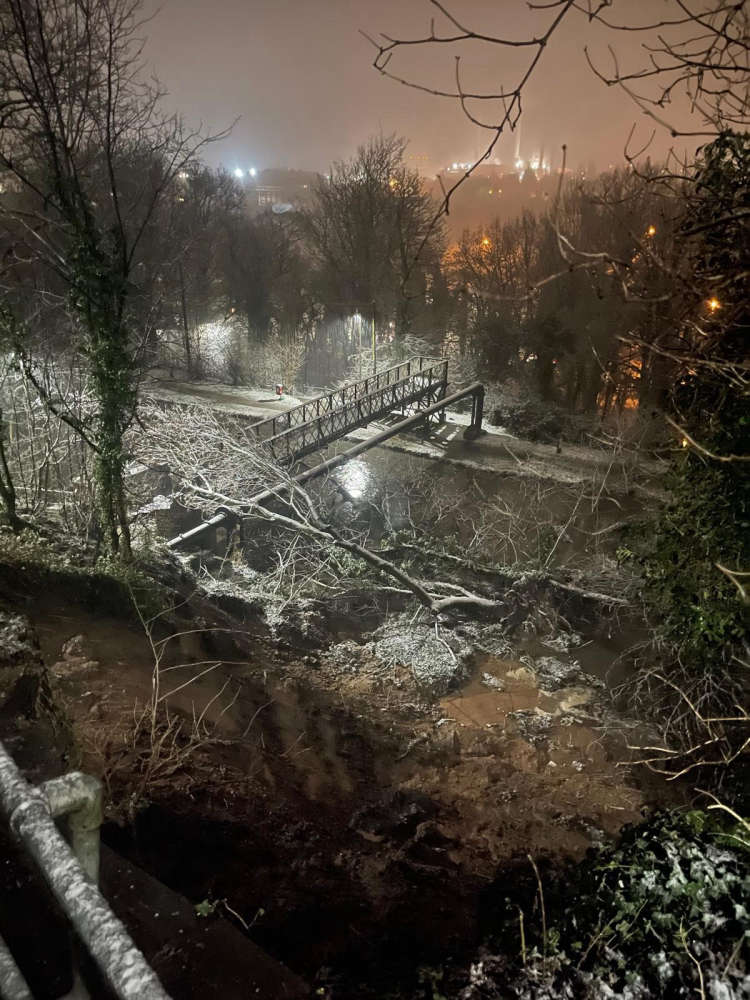 A major project to reroute the way gas reaches a Cheshire village – work that followed a dramatic landslide and tree fall during a storm – is completed.
When Storm Christoph battered Britain a year ago, one consequence was a tree uprooting from the banks beside the Trent and Mersey Canal, near Barnton.
The tree fell on top of a gas pipe and footbridge that crosses the water [see attached photo].
In the middle of the night, Cadent – which manages the North West's gas distribution network – despatched its teams to ensure everything was safe.
Although there was no damage, there were concerns about further ground movement, and the impact that could have on local gas supply.
This pipe supplied gas used in 2,300 homes in Barnton, for central heating, hot water, and cooking.
What followed next was a major multi-agency operation: to monitor the condition of the slope, safely reopen the canal, deliver a new route to supply gas into the village of Barnton and then decommission the section of pipe over the canal.
Over eight months, Cadent designed, planned and delivered this extensive project, installing more than 800 metres of new PE [tough plastic] pipe underground, as well as other assets.
This involved working with a range of agencies including the Canal and River Trust, Cheshire West and Chester Council, private landowners and Cadent's contracted specialists.
From using laser scans of the canal banks to produce geotechnical reports, to constant monitoring and management of the existing pipe, to liaising with agencies entrusted with managing the UK's waterways, this has been a big project of many moving parts.
And it means Cadent has secured supply to this village with little or no impact to residents, other than the (to be expected) traffic management needed as the Cadent teams installed the new pipe. In total, it's been an investment by Cadent of over £300,000.
"From the teams who responded within minutes of the tree falling in January to the teams who've now installed this new main and abandoned the other, this has genuinely been a Herculean effort from all," said Jenny Moten, North West Network Director.
"It shows the spirit, determination and professionalism of our teams and partner agencies to keep our customers safe and to keep people warm in their homes. I am proud of everyone involved in this and thank all the different agencies for coming together to support it."
Dan Mee, Senior Integrity Engineer at Cadent, added: "What we have achieved as a collective over eight months has been great. To keep this on track and get it done between winters is a huge achievement. Almost every department in Cadent has, in some way or other, contributed to this. It has been a project with many levels, that's needed us to work together to complete."
Cadent in the North West
Cadent operates four of the UK's eight gas distribution networks – North West England, West Midlands, Eastern England and North London.
Its North West network stretches from the Lake District to Crewe and is home to 21,000 miles of distribution pipes (most of them underground) and hundreds of above ground installations. If placed end to end, that amount of pipes would stretch from Cheshire to Sydney, Australia, and back again.
Around £800m will be invested in the North West's gas network over the next five years. This will maintain safe, secure supplies to homes, hospitals, schools, offices and other sites, as well as support the UK journey to net zero carbon emissions.
Backed by Cadent and many partners, the North West region is set to lead the way in a major shift from fossil gases to hydrogen. Producing only heat and water at point of use, hydrogen is key to the UK's net zero future and is set to be introduced at volume in the North West during the 2020s see:
Pictured - The scene which first greeted gas engineers 12 months ago.