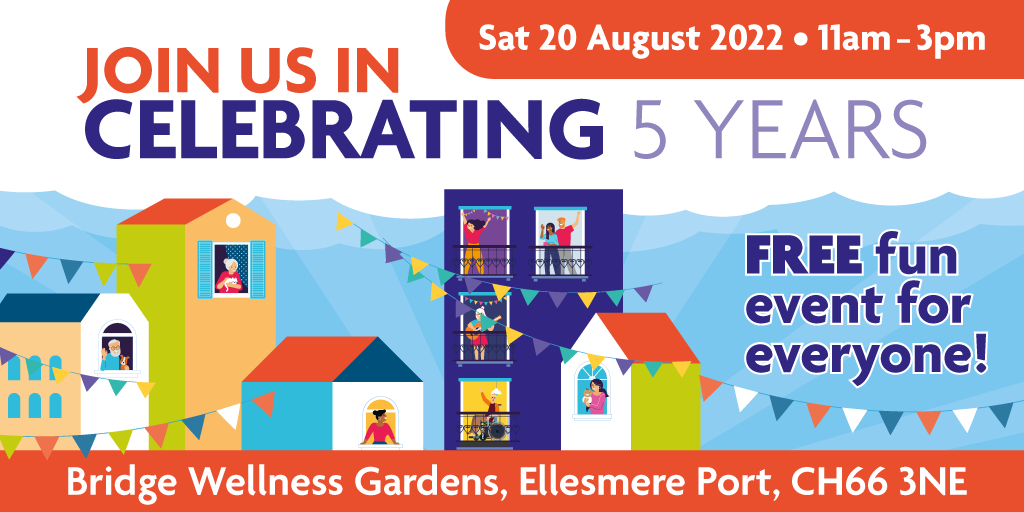 Residents of Ellesmere Port and beyond are invited to a celebration event to mark the fifth anniversary of a partnership which, amongst other achievements, has seen the development of Cheshire West and Chester's first new council houses in thirty years.
Saturday 20 August marks five years since Cheshire West and Chester Council joined with progressive social landlord, ForHousing, on a partnership to manage 5,500 homes.
Local communities are warmly invited to join anniversary celebrations at the fun day at Bridge Wellness Gardens on Mill Lane in Ellesmere Port between 11am and 3pm on Saturday 20 August 2022.
The free, family-friendly celebration will feature inflatables, face painting, games, live music and entertainment suitable for all ages.
Janet Lawton, Strategic Housing Lead (HMC) at ForHousing, said: "Together with Cheshire West and Chester Council, we are really looking forward to celebrating this milestone with tenants and the wider local community – everyone is welcome.
"We are responsible for managing local homes, but this partnership is about so much more than that – maintaining safe and attractive communities, improving lives and boosting community wellbeing.
"Tenants and local residents have also played a huge role in the success of this partnership, so we want to say thank you with a celebration."
ForHousing began managing Cheshire West and Chester Council's homes in 2017 and also delivers a number of other services and initiatives.
Partnership success stories include securing £98,000 from the National Lottery to deliver projects tackling loneliness and isolation and connecting 450 people to employment and training opportunities. Close to £250,000 in funding has been awarded to 45 local charities too.
The landlord has also supported over 850 people to access more than £1 million in benefits and grants to help families in and around west Cheshire, and ForHousing staff have completed almost 1,000 hours of volunteering in the community.
And as the pandemic hit and the first lockdown began in 2020, the partners quickly responded by making contact with every tenant to understand if they needed support, and delivered food parcels to people who were isolating.
Councillor Matt Bryan, Cabinet Member for Housing, Planning and Climate Emergency at Cheshire West and Chester Council, said: "Together, we can achieve more and it's a pleasure to celebrate together and look back on our successful partnership with ForHousing over the past five years.
"We're looking forward to welcoming lots of people from the local community to enjoy a fun family day out and mark this milestone together."
Event details:
• Where: Bridge Wellness Gardens, Mill Lane, Ellesmere Port, CH66 3NE
• Date: Saturday 20th August 2022
• Time: 11am – 3pm
• All welcome.
For more information, please visit:
https://www.forhousing.co.uk/cheshirewestandchester
ForHousing provides quality homes and places, making more things possible for more people and providing the building blocks to a better life.
A progressive and innovative organisation, ForHousing owns and manages more than 24,000 homes and delivers housing management services for other landlords.
Everything ForHousing does is for the good of tenants and communities. The ForHousing team strives to improve lives every day by being people-focused and the best landlord possible.
ForHousing always wants to learn and grow. The landlord listens to tenants, collaborates with care and invests wisely to create economic and social value to continually improve the wellbeing of communities.