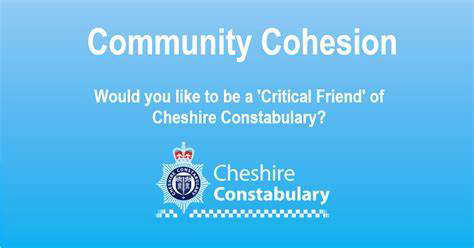 Are you interested in having a say in Local Policing?
Are you interested in ensuring that what is being delivered is fair, proportionate, accountable and transparent?
Community Cohesion Groups work directly with Local Policing Units to objectively review practices and procedures.
The purpose of the CCG is to ensure members of the local community, and in particular the minority communities, have their voice heard within policing at a local level. To enable community representatives to understand and inform local policing practice to ensure it is fair, effective and equitable. To encourage the review of police powers and activities at the community level to ensure transparency.
These groups are made up of members of the public who volunteer to liaise with their local police contact.

If you are interested in joining the Community Cohesion Group for the Chester Local Policing Unit, please contact Sergeant Isobel Hunt at:
Isobel.hunt@cheshire.police.uk
#haveyoursay
Message Sent By:
Stephen Parr (Police, Police Community Support Officer (Coach), Chester).