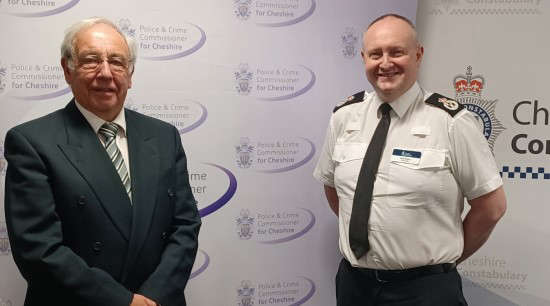 Police and Crime Commissioner for Cheshire, John Dwyer and Chief Constable of Cheshire Constabulary Mark Roberts want to thank residents from across the county for taking part in their online question and answer session.
The online question time event was held on 17 January 2022 and was part of the Commissioner's Budget consultation, in which he's been seeking residents' views on the policing precept part of their council tax.
John Dwyer, Police and Crime Commissioner for Cheshire, said: "Thank you to everyone who got involved with the online webchat. It's important for me to hear from people from across the county about their policing needs and how the budget should be set.
"This feedback will help to shape the way Cheshire Constabulary works over the next 12 months and beyond, as we move towards having the highest number of officers we've ever had on Cheshire's current boundaries.
Mark Roberts, Chief Constable of Cheshire Constabulary, said: "It is important that we listen to the views of the communities we serve in order to provide the best possible police service for the people of Cheshire.
"I would like to thank everyone who took the time to join our online session. The points raised will be used to help us continue the work we are doing of targeting criminality and keeping the people of Cheshire safe."
Residents submitted questions in advance, covering topics such as:
The number of police officers to be recruited by Cheshire Constabulary
The impact on 101 and 999 calls if more staff are hired
Where current sources of income (parking fines, speeding tickets and proceeds of crime) are used
Issues around road safety, including speeding and new vulnerable road user's laws
Community engagement
At the end of the event, the floor was opened and residents who joined the meeting asked further questions of the Commissioner and Chief Constable about their priorities and plans to tackle crime in the county.
You can have your say at:
www.surveymonkey.co.uk/r/yourpolicebudget2022-23
If you'd like a hard copy of the survey, contact pcc@cheshire.police.uk
The survey will close at midday on Tuesday 25 January 2022.
Pictured - Police and Crime Commissioner for Cheshire John Dwyer and Chief Constable Mark Roberts.