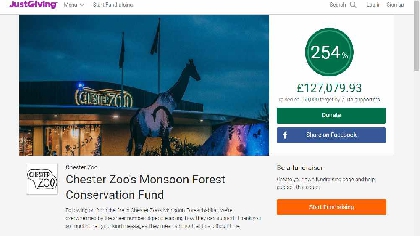 The Just Giving fundraising page has doubled its target to over £120,000 of donations
An outpouring of support has more than doubled the initial fundraising target of £50,000 following Saturdays' devastating fire at Chester Zoo that killed several of its animals. The current standing is at just over £125,000 and Chester Zoo has released the following statement in response to all the donations:
"We're totally overwhelmed by the love and concern from everyone wanting to help in any way they can.
With such a huge number of you asking what you can do to support, we've set up this page so anyone who wants to donate has the opportunity to do so. All the incredible supporters who've given are providing us with a fund which will help us continue with our mission to prevent extinction.
Thank you so much for your kindness. Our teams have been working around the clock and knowing how much support there is behind them has made this awful time a little easier to bear."
"Thank you again. You're all amazing."