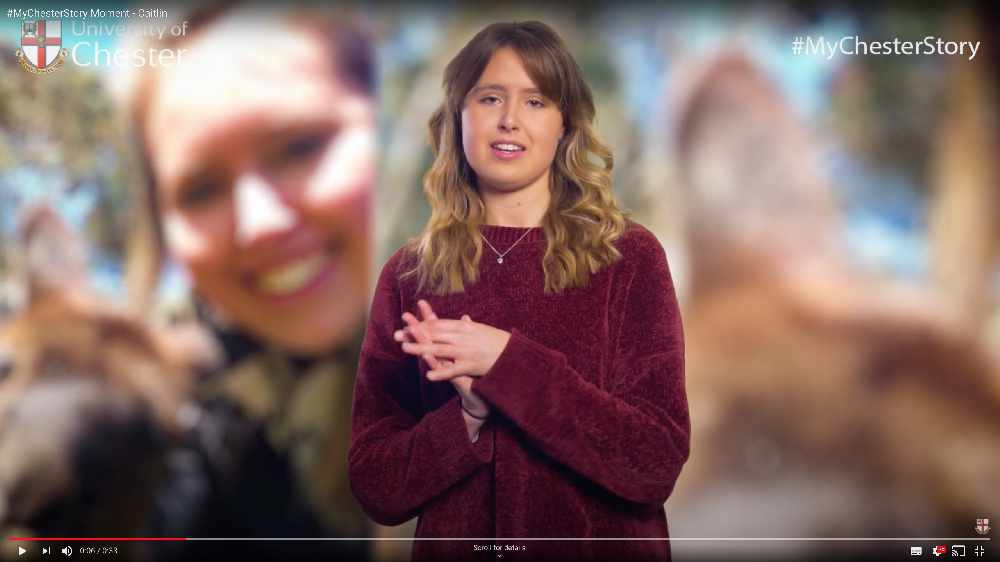 Celebrating students' special moments, achievements and celebrations, while at the University of Chester, has led to an award shortlisting for the institution.
Last year, the University launched its Moments campaign, to share those experiences – told by current students in their own words – with prospective students. It began as an extension of the popular #MyChesterStory Instagram campaign, where students share posts about their stories and experiences at the University. Students were asked to describe on film their motives and feelings behind their #MyChesterStory image, so that prospective students could gain a flavour of what it is really like to study at the University of Chester. Their unscripted and emotive videos received high levels of engagement, with over 45,000 page views for some of the more popular videos. Audience retention levels (ie the percentage of time that a viewer watches a video for) have been consistently well above the average YouTube audience retention rates, at an impressive 95%.
The campaign has now been shortlisted in the Best Use of User Generated Content category in the Edurank Think Student awards. Edurank is the only free to use social media benchmarking software dedicated to the education sector.
Adam Bodger, Deputy Director of Marketing, Recruitment and Admissions at the University, said: "I'm really pleased that we've been shortlisted, especially for an award where the focus is on student generated content and the student experience. I'm a big believer in using the student voice to provide prospective students with an authentic view of what it is like to study at the University of Chester. There are now over 29,000 #MyChesterStory posts on Instagram alone and we use this content in all sorts of ways (in print, online, as well as in video) to demonstrate what it is really like to study here."
He added: "For this campaign, we invited some students to come and talk to us about a memorable moment from their student experience. It was important that this moment was one that they had shared on social media, not only to demonstrate authenticity but also to make their experience more tangible to the viewer. Describing that special moment also made the videos feel more emotive than a standard interview piece to camera, enabling the viewer to connect more with the student and their story. I think we all know and understand the power of the student voice, but understanding this and getting prospective students to engage with your content are two separate things, so we knew we needed an interesting and engaging way of doing this. I think the number of views that these videos have achieved is a testament to this."
Below are just some of the Moments that students have shared:
The awards will be announced at a special online event on Thursday, November 5.
Pictured - Caitlin Youd