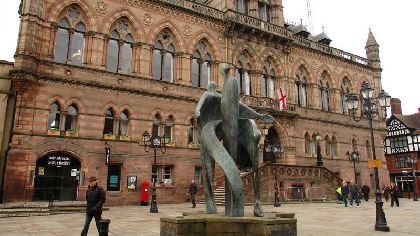 The celebrations to mark one hundred years since the formation of the RAF come to an end today and Chester will join the rest of the UK in honouring the occasion.
Cheshire West and Chester Council will be flying the Royal Air Force Ensign flag in Town Hall Square.
The flag will also fly outside other Council buildings across the borough during the day
The national RAF 100 campaign will end with a service at Westminster Abbey followed by an RAF air display over Buckingham Palace
There is also a display of RAF memorabilia on show in Chester Town Hall until the end of August 2018.
Lord Mayor of Chester Cllr Alex Black said: "I am delighted to be able to support this important anniversary by flying the flag at Chester Town Hall and it is a proud day for our country and those who have been involved with the RAF since its conception."
Councillor Bob Rudd, Chairman of Cheshire West and Chester Council, said: "Cheshire West and Chester Council is honoured to be flying the RAF Ensign flags from its buildings on 10 July to support the anniversary of the oldest independent air force in the world."
"There are many events taking place to mark the RAF's centenary celebrations. Her Majesty the Queen, who recently visited Chester, will attend a special service of thanks giving at Westminster Abbey and then watch the skies above Bucking Palace as they filled with up to 100 aircraft for the official fly-past. It is important that the Council supports and participates in such an important anniversary."