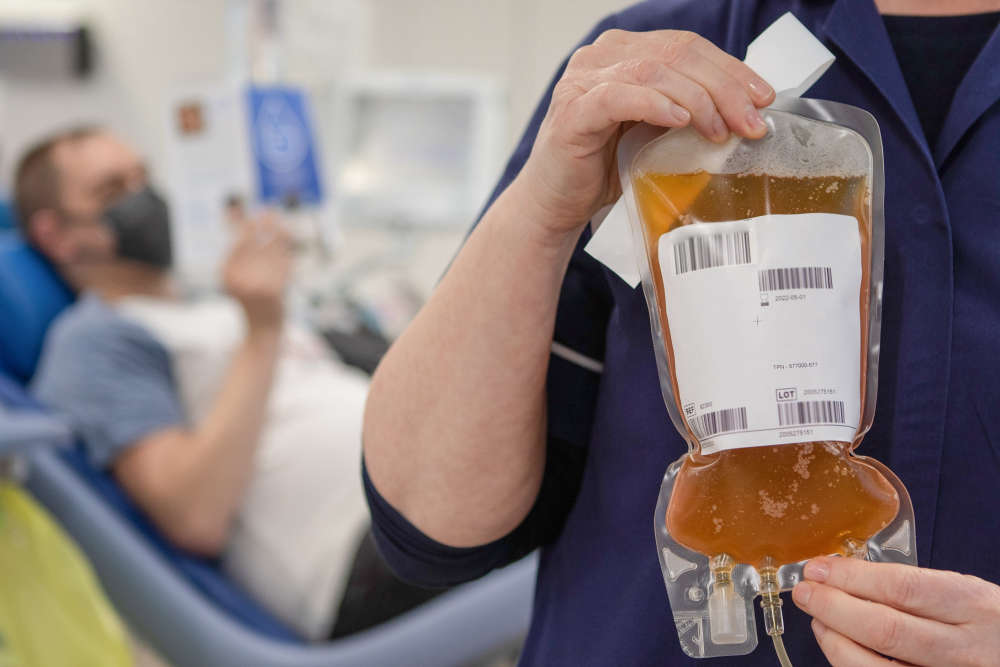 A Chester man who needs special treatment has welcomed news that plasma donation has restarted England.
NHS Blood and Transplant is today (July 21) launching a campaign for plasma donors. Plasma donation only restarted this year after a gap of more than 20 years and few people know what plasma donation is. An NHSBT survey shows only 23% of the public know about it. (1)
Joe Keary from Chester City centre has received intravenous immunoglobulin all his life due to a lifethreatening immune disorder.
The 20-year-old, who is studying economics at the University of Chester, has Common Variable Immune Disorder, which means he lacks the normal antibodies to fight off infections.
Without medication, he's a constant risk of serious infections.
To reduce the risks, Joe is treated with an infusion every three weeks at the Royal Liverpool Hospital. The antibodies in the donor plasma help him fight off bacteria and viruses.
Joe was diagnosed with CVID as a baby, a disorder with an unknown cause which is believed to have a genetic basis.
He has developed complications as he has got older, including a build up of mucus in his lungs, a chronic bacterial infection, and a low red blood cell count.
Despite these complications causing regular breathlessness and coughing fits, Joe leads as active as life as possible – he's the hooker for his university rugby team and will next year be club captain.
Joe said: "I was constantly getting infections as a baby, and I was back and forth to hospitals including Great Ormond Street, so I was diagnosed really young.
"I can miss a lot of things, such as lectures at university – I might have a coughing fit tor two hours but I try to live as normal a life as possible. I played rugby at academy level and I will be club captain of the uni team next year.
"I hope people will now donate here."
There was a ban on using plasma from UK donors for these medicines from 1998 to February 2021, as a vCJD safety precaution. The independent experts of the MHRA concluded it could safely be restarted. (2)
Donated plasma is made into antibody medicines known as immunoglobulins, which are used to save the lives of people with immune disorders. Around 17,000 people a year receive these medicines. 
People can support the campaign by sharing the news with friends and family who live near the 11 new plasma donor centres. (3) The nearest donor centre to Chester is in Manchester though the network may expand in future years.
An NHS Blood and Transplant spokesperson said: "We thank Joe for supporting this campaign and we hope more people will come to understand the lifesaving power of plasma donation."
(1) Awareness of Plasma for Medicine stands at 23% among the 16+ population in England. NHSBT Survey respondents May 2021 (2192 people).  
(2) There are plasma donor centres in Barnsley, Birmingham, Bolton, Bristol, Croydon, Chelmsford, Manchester, Reading Stratford, Stockton, Twickenham.  
(3) They are mainly used to treat immunodeficiencies (for example, when people lack antibodies to fight infections) and neurological disorders (for example, when the body's immune system is attacking itself). Currently the NHS depends entirely on imports of blood plasma from other countries – mainly the US – to manufacture immunoglobulins.  Donation to NHSBT will bolster long term NHS supplies. The plasma being donated to NHSBT now will reach hospitals from 2022 onwards, following a manufacturing process to turn it into a medicine.  
NHS Blood and Transplant is a joint England and Wales Special Health Authority. We provide the blood donation service for England and the organ donation service for the UK. We also provide donated tissues, stem cells and cord blood. We are an essential part of the NHS, saving and improving lives through public donation.