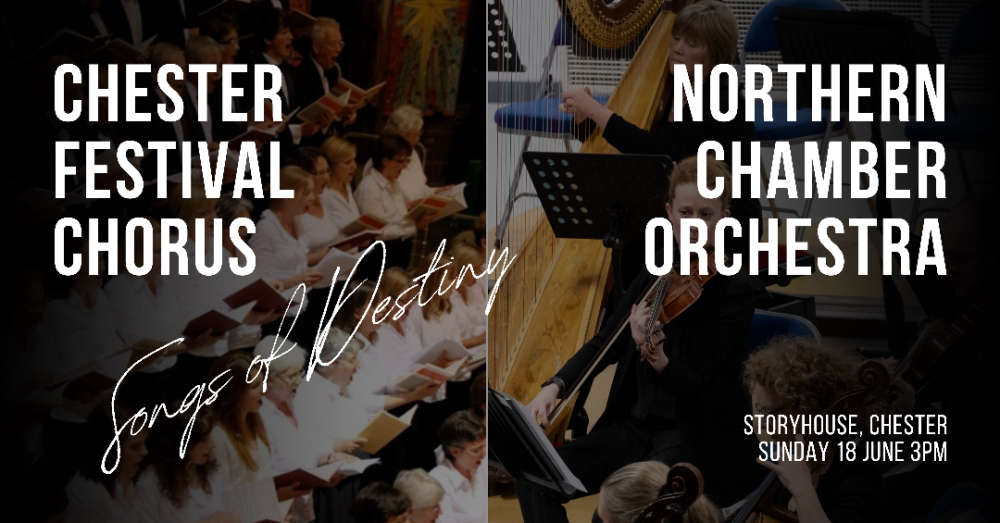 Final rehearsals are underway as one of the region's top mixed choirs is set to join an acclaimed chamber orchestra for a concert at Storyhouse in Chester.
Chester Festival Chorus will take to the stage at the popular Chester city venue on Sunday 18th June at 3pm as they join The Northern Chamber Orchestra (NCO) for an uplifting concert featuring works by celebrated composers including Brahms, Beethoven and John Tavener. The concert in Chester follows on from a successful series of concerts staged by the NCO during 2022 and will be conducted by Ellie Slorach, Founder and Artistic Director of Kantos Chamber Choir.
Entitled "Songs of Destiny", the concert will take the audience on a journey through musical history from Hildegard Von Bingen's 12th century plainchant Spritus Sanctus Vivificans through to James MacMillan's 'O Radiant Dawn of 2007.
The concert's title comes from Brahms' work Schicksalslied, "Song of Destiny". It is based on the classical German poem Hyperions Schicksalslied which contrasts the euphoric lives of Immortals in heaven with the uneasy existence of mortals.
Speaking about the Composers whose work is included in the concert, Andy Ashton of Chester Festival Chorus said
"Several of the composers in the programme have something in common - they have either themselves experienced visions, or the music is based on the visions of others. From early childhood, Hildegard von Bingen's spirituality was rooted in what she called the reflection of the living Light; visions that inspired her writings. Sally Beamish's Showings uses texts by 14th century anchoress Julian of Norwich, who received a series of visions during an illness. In her teachings, Julian presents an extraordinary hopefulness and serenity in the face of the significant suffering of her time. Beamish's composition does not exist in recorded form, nor can it be downloaded so it can only be experienced live. John Tavener is also known for his expressions of deep spirituality in music, and Song for Athene, written in tribute to a family friend who passed away in an accident, came to him fully formed at her funeral and expresses hope beyond the grave. In this astonishing work for voices only, the second Basses sing only one note, but it lasts for the entire lenght of the piece."
Andy added
"This concept of hope in God and eternal life is also present in many of the other works that will be performed during the concert. Geistliches Lied (Sacred Song), Brahms' earliest accompanied choral work, is set to a poem by the chorale author Paul Flemming about the acceptance of fate and trust in God, while ardent longing for Christ is a prominent sentiment in James MacMillan's O Radiant Dawn. Beethoven's rarely performed choral work, Elegischer Gesang, written for the anniversary of his friend's wife, Eleonore, swells with hope and emotion for "the heavenly spirit's return home", while Brahms' Nänie is a lamentation on the inevitability of death while consoling those who mourn. Although there are moments of passion, in general, the music is blissful and serene, the perfect antidote to our hectic, modern life."
Speaking about the concert, The Northern Chamber Orchestra said
"We are thrilled to be joined for this concert at Storyhouse by the Chester Festival Chorus, one of the Northwest's leading large-scale mixed-voice choirs for what we are sure will be a joyous, celebratory afternoon of music."
Ahead of the concert, Chester Festival Chorus have put together a special Spotify playlist which features the songs which are set to performed at Storyhouse.
To download the playlist, simply search @ChesterChorus on Twitter and click on the link.
Full details of "Songs of Destiny" can be found at:
...where tickets can be bought online.
Alternatively, contact the Storyhouse Box Office on:
01244 409 113