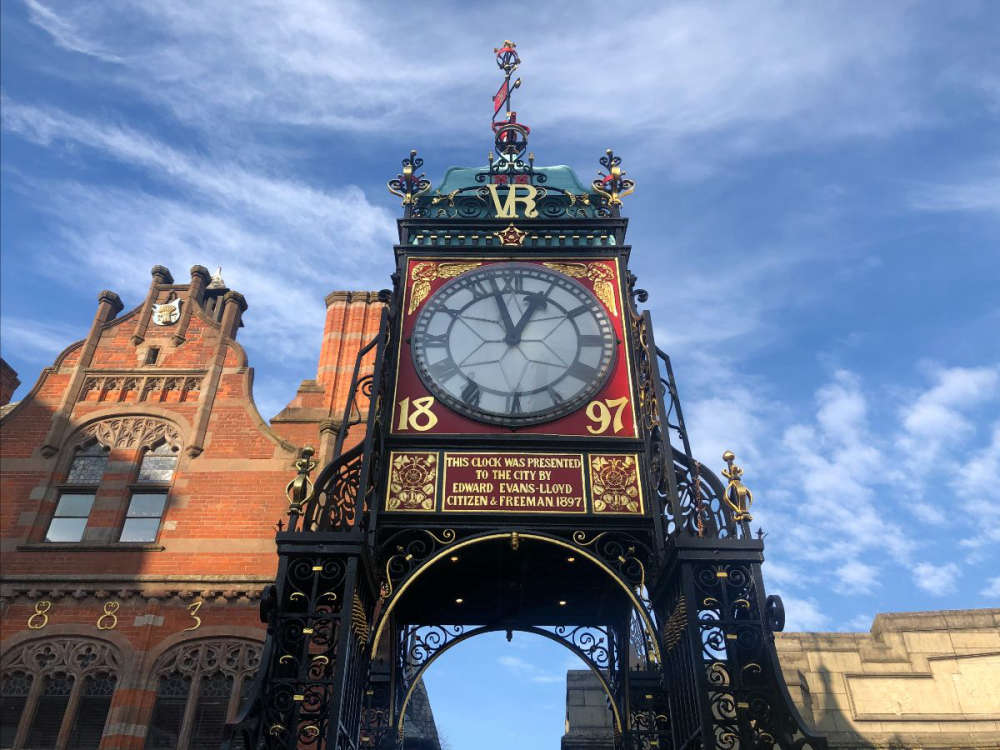 Chester will provide the canvas for a new art trail, Spring Blooms, from 19 February to 31 March
Six artists will bring their interpretations of Cheshire nature to the city centre in the shape of installations reflecting on natural forms, from tree roots to bird song, in a creative rewilding of the city.

The works will be positioned in some of the city's most beautiful locations. One will festoon a bus with cherry blossoms to encourage the use of green transportation, another will digitally rewild the famous Eastgate Clock (pictured above left). See full list below.

The installations will be accompanied by a special programme of free, child-friendly half-term holiday events, including craft sessions and music workshops, at The Nest (pictured above right), a former shop turned creative space, dressed as a woodland grove. See full list below.

Destination Chester, a network of the city's tourism partners, has commissioned the trail from outdoor arts specialists Wild Rumpus. The community team at Chester's arts centre, Storyhouse, will stage the events at some of the installations and in The Nest.

The initiative is part of a six-month community arts project titled Chester Designed By Nature, a project is supported by the European Regional Development Fund. It aims to embrace and explore the natural world that surrounds us through a programme of art, activities, performance, storytelling and large-scale sculptural installations.

FREE EVENTS AT THE NEST
For dates and full details, go to:
www.visitchester.com/springblooms.

Spring Crafts
Local artist Clare Owens will lead this workshop creating flowers and creatures to welcome the coming of spring.

Spring Scenes
At this fun day of spring crafts with Art In The Place a variety of materials will be put to use to make a spring scene with birds, nests and seasonal flowers.

Grosvenor Museum Takeover
Staff from the Grosvenor Museum will offer a fun look at health and hygiene through the ages, reveal historic artefacts from the collections, and lead craft sessions in making tussie-mussies (posies) to ward off the plague.

Make Chester a Wildlife Friendly City
Cheshire Wildlife Trust will host wildlife and nature crafts and activities for the whole family to consider what Chester might be like in a greener, wildlife-friendly future.

Choose Your Own AdvenTUNE!
Award-winning singer-songwriter and children's author Ashley Fayth will lead an energetic, interactive, and super-silly sing-along.

Cherry Blossoms
The Nest will bloom with spring blossoms at this workshop crafting paper and fabric into flowers to bring this hibernation space to life.

SPRING BLOOMS ART INSTALLATIONS
For dates and full details, go to:
www.visitchester.com/springblooms.

HONEYCOMB
Located at Chester's famous Cross, the Crossroads Honeycomb reflects the beautiful simplicity of nature's patterns. Based on honeycomb shapes, the work is found draping across some of the city's famous architecture and filling in the spaces between. Expanding from a central point, it will evoke the bustle of the hive at the city's most popular meeting landmark. Artist: Bex Knight.

MURMURATION
Murmuration reflects the famed murmurations of starlings, captured on the banks of the River Dee. Here, near the Victorian bandstand, the images of birds will float amongst the trees so that spectators can sit on a bench and watch the mesmerising performances. Artist: Nikki Charlesworth.

SHOP FRONT. NIGHT CAMERA. ANIMAL.
This digital video installation sees Cheshire's nocturnal wildlife scurry, wander, rummage and gnaw through Chester's shopfronts. A collaboration with Cheshire Wildlife Trust, the work offers glimpses of foxes, badgers, mice, hedgehogs, deer and beavers. Their glowing eyes look out from shop windows, bringing us face to face with a secret, natural world. Artist: Jack Brown.

SPRING ON STAGE
Spring on Stage doubles as a performance space in the Cathedral Gardens, where the stage itself is also a piece of art inspired by the vivid colours and patterns of spring insects. Artists: Pickle Illustration.

ARIZICAL
Set within historic Grosvenor Park, The Arizical is a contemplation space inspired by organic networks, such as those of fungi mycelium, plant roots and synapses. These apparently chaotic and mysterious networks are really efficient pathways that here form a labyrinth visitors can journey through. Artist: Jessica Rost.

HANAMI CHERRY BLOSSOM BUS
On the Hanami Cherry Blossom Bus, blossoms have been co-created with Cheshire communities from recycled materials, yarn and alpaca wool. Celebrating the arrival of spring, with the hope that the year ahead will allow gathering and connection, each cherry blossom has been dedicated as a tribute to unpaid carers in Cheshire. The project was co-devised with Andrea Janowski and the Carers Art Group. Artists: One Life Artists.

REDESIGNED BY NATURE
Using augmented reality, this new app re-wilds the iconic Eastgate Clock on mobile phones so that participants can watch plants and animals take back the landmark around them, transforming it into a rural idyll. Meanwhile, the gentle sights and sounds of nature counteract the din of the city. This poetic introduction to Chester Designed by Nature is voiced by Julie Hesmondhalgh. Artist: Jack Hardiker.