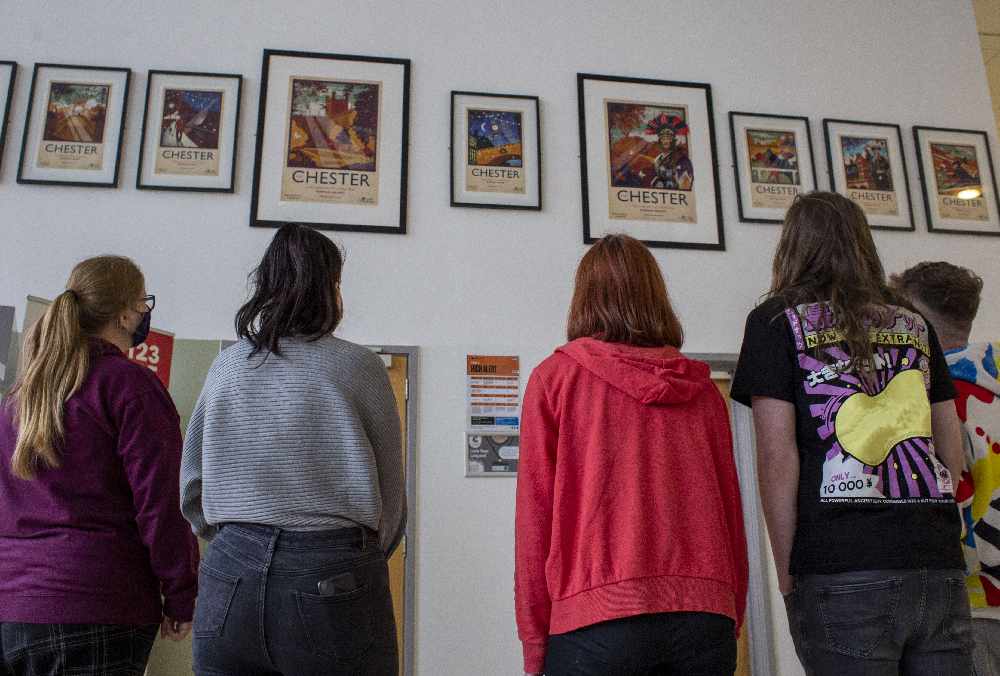 Cheshire College – South & West is now displaying Chester-based creative Nicky Thompson's artwork which features iconic city landmarks including the Groves, Eastgate Clock, Chester Racecourse and Chester Zoo.
The 'Made in Chester' artwork series, which was originally exhibited at the Grosvenor Museum in Chester, now has a permanent home at Cheshire College's Chester Campus in Handbridge after Nicky put a call out on social media in a bid to keep the collection together instead of selling the individual pieces separately.
Inspired by great poster artists of the early 20th century, the collection will now take on a new lease of life encouraging the next generation of local creatives to look to their local surroundings when drawing inspiration.
Paul Browne, Assistant Director of Visual and Performance Arts at Cheshire College – South & West, said: "We're extremely honoured that Nicky selected the College to display his Chester poster series. The 'Made in Chester' artwork has been hugely successful within the city and further afield and to now have it permanently displayed at Cheshire College is a real privilege.
"We launched the collection with our Art and Design School learners late last year and the reaction has been more than we could have imagined. Learners have loved seeing the city they study in come to life in a new and interesting way through Nicky's art, with many commenting on the striking colours and how the pieces instantly build a connection between the viewer and artist through a shared appreciation of Chester."
Nicky commented: "My mum went to art school in Handbridge in the 1960s so for me, it felt like a very natural home for the pieces to be. I hope the learners enjoy seeing the work on display and seeing the city through my eyes. Being an art student is a wonderful thing – a time to be truly creative and experimental, free from commercial constraints.
"I very much look forward to attending future shows and exhibitions at Cheshire College when they begin again. Inspiration, I find, is very much a two-way street."
Cheshire College – South & West's Visual Arts department offers a range of courses for learners to develop and explore their creative skills through a variety of artistic practices, from Fine Art, Graphic Design, Photography and Product Design to Ceramics, Fashion and Textile Design, Jewellery Design, and Sculpture and Printmaking.
If you would like to know more about studying at Cheshire College – South & West visit:
Cheshire College – South & West offers exciting opportunities to 11,000 learners and 1,300 Apprentices to access high-quality teaching and learning.
Their modern Campuses across Cheshire in Crewe, Ellesmere Port and Chester have world-class facilities which are the result of a £140m investment which are the result of a £140m investment in the latest technology and real work environments.
Cheshire College – South & West offers a range or courses from Entry Level to Level 7 in: A Levels; Full-time courses; Apprenticeships; Part-time courses for adults; Access and Higher Education courses; bespoke training for employers; Maths, English, IT and ESOL courses for adults; programmes for International learners; Futures Programme for learners aspiring to progress to university.
The College has strong links with local businesses of all sizes and work with many major employers such as Bentley, Brownlow Furniture, Ecolab, Vauxhall Motors, Scottish Power, Unilever, Brunning and Price and National Grid.
Cheshire College – South & West are an approved Apprenticeship provider and can support local employers who are using the Levy system to recruit and train Apprentices within their business.
Pictured - Visual Art learners at Cheshire College – South & West admiring the 'Made in Chester' collection now on display at the Chester Campus.