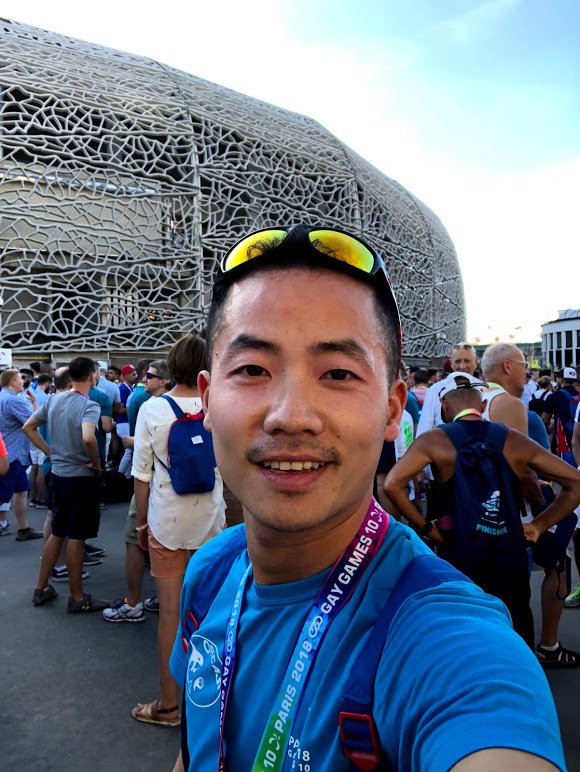 An academic at the University of Chester has joined the Committee of a worldwide sporting event which promotes equality for all, and in particular for LGBTQ+ people throughout the world.
Dr Min Ge, Programme Leader of Chinese Studies at the University, is a Committee Member on the International Development group for the Federation of Gay Games. The next Games takes place in Hong Kong in 2022 – the first time that the event has taken place in Asia.
Dr Ge is part of a team which aims to expand the international and global outreach and visibility of the Gay Games.
His desire to take a more active role began when he competed in the last Games, which were in Paris in 2018, as he explains: "I have been training in sport from a very young age. I was a track and field athlete in school, I started to play volleyball from Uni, and then I was always playing competitions for the universities I went to in China, Ireland and Australia. Now I play for a local club in Manchester.
"The first time I knew about these particular Games, I think, was from a cover of a magazine in China actually – and that was about the Gay Games in Cologne in 2010. Ever since then, I just wanted to participate. Then I heard about the Paris Games, and I got to know that I could register and represent whichever country I was living in, regardless of my nationality. For team sports, I could play for a third country even if I didn't have my own team. So that's how I ended up playing volleyball as a Chinese player from the UK in an American team from Washington State! However, in the Gay Games, none of the teams or athletes are named after a country or region, which I think really reflected and emphasised the equality. The New York Times noted that it was 'an international sports event that bills itself as the world's largest and 'most inclusive' — anyone can participate' – and that's how it felt."
While Min was participating in the Paris Gay Games, he had a chance encounter: "The first contact I had with the committee members was while I was waiting for my teammates in the registration hall. A few staff members/event volunteers came to chat with me because I was standing alone there. It just so happened that one of the people I talked with was the funder and Co-Chair of the next Gay Games - in Hong Kong in 2022. Another one was the Director of International Development in the Federation of the Gay Games. We kept in touch!"
When he returned from Paris, he started a research project (ongoing) about the Gay Games and LGBTQ+ sports and athletes. As the next Gay Games will be held in Hong Kong, the project fits perfectly with Min's research interests - sports studies and Chinese studies. His project has received funding from Santander as well as from the Faculty of Arts and Humanities in the University. His academic work also drew interest from the Director of International Development at the Gay Games, which led to him joining the committee in an academic capacity.
Min has fond memories of his experience in Paris, in terms of the friendly and non-judgmental atmosphere, which lasted 10 days with more than 10,000 athletes taking part. He said: "I think it was the whole experience in Paris that inspired me and made me want to be part of it. There were a number of cultural and sporting events held in the athletes' village outside of Paris City Hall. I saw a lot of local residents and tourists participating, regardless of where they were from or who they were. I think this was what inspired me the most, that this event provided a platform to stress the diversity and equality within the LGBTQ+ community as well as within society in general."
Min is now looking forward to the next event in 2022. He said: "The Hong Kong Games is expecting 12,000 participants and 75,000 spectators. This event in this iconic city will provide a unique experience for everyone."
Pictured - Dr Min Ge at the Gay Games in Paris, 2018.