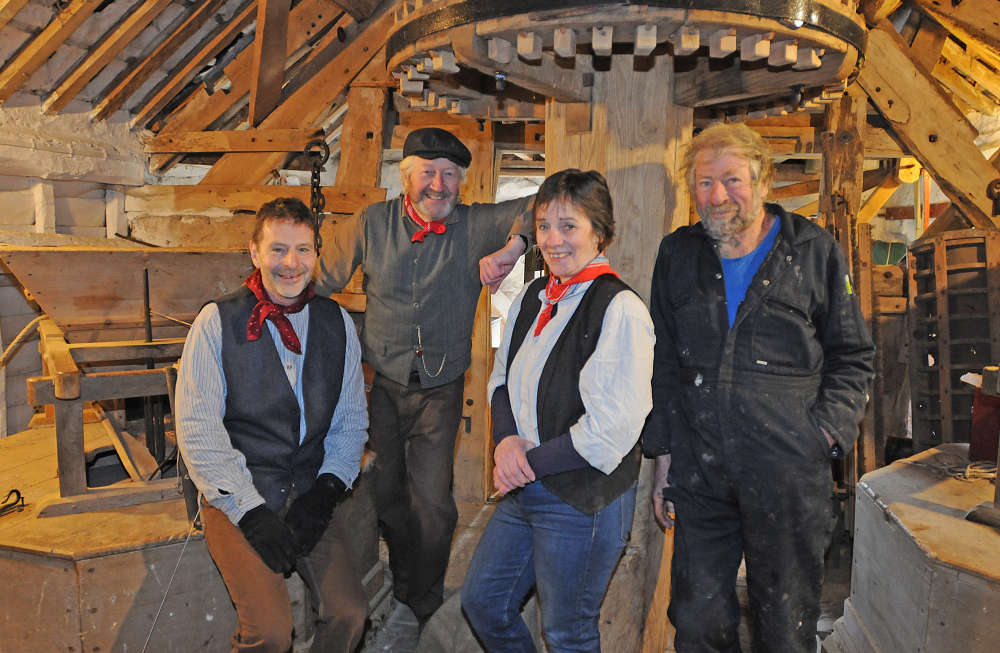 Stretton Watermill, near Farndon, is one of the country's best-preserved working water-powered cornmills and a 'gem' of Cheshire.
On April 1, it will reopen for the season and for the first time in four years its dedicated millers will once again be able to mill corn into flour at this 700-year old mill. This follows a complicated but successful restoration of the watermill's wheel which is not likely to need replacing now for 50-80 years. To mark this milestone, the mill will celebrate with free drop-in craft events for children on April 1 between 1-5pm, including the chance to talk to the master millwright about his craft and the mill's restoration. There is a charge to go on the mill tour (£3.70 for adults; £1.90 for children) and the mill cannot take card payments so cash is required to make any purchases or buy tickets. Parking is free and there is also plenty of space for picnics at the mill's idyllic location.
For further information go to:
The mill's renovated breastshot wheel was paid for by Cheshire West and Chester Council, which owns the mill. Restoration required the replacement of wheel boards, slucies and the pentrough (water-feed channel) and due to the age of Stretton Mill, all the replacement parts were custom-made. This specialist restoration was undertaken by master millwright, Malcolm Cooper*, who for over 40 years, has worked on the restoration of over 200 wind and watermills, including Cheshire's Walk Mill in Waverton and Bunbury Watermill.
Malcolm Cooper, Master Millwright, from Wiltshire-based Carom Watercrafts, said: "Key to the understanding the mill and giving visitors an excellent visitor experience is to see and hear the ancient atmospheric mill in action. Inevitably, due to its age and intricate mechanisms, the mill requires exceptional attention. One of the biggest challenges at Stretton Mill was access. To get to the wheel, I needed to go through a small archway and then down a step ladder to get to the 'wheel level'. Working inside the wheel is always challenging in terms of space to move around, plus access to the sluices and pentrough is only possible through a grid, making getting materials in and out challenging."
"It always brings me great satisfaction to see a mill brought back to life and working. It has been an honour to work on this restoration with such a dedicated team, especially the late David Andrews, who was a passionate enthusiast and whose presence is still felt at Stretton Mill. It has been a privilege to follow the hundreds of people who, through nearly 700 years, have struggled to keep this mill working."
Councillor Louise Gittins, Leader of Cheshire West and Chester Council said: "Stretton Watermill is a timeless, special place – in its rural, secluded setting it would be easy to imagine oneself back in time. Visitors are enchanted by its impressive wheel, which, powered by the nearby pond, turns the huge millstones and a complicated series of cogs, belts and shafts to make flour. I am really delighted that the repairs that have been made to Stretton Mill are likely to last for 50 - 80 years, keeping the 'living history' of this mill 'alive' for generations to come. I am especially grateful to Malcolm Cooper, the millwright and our staff for all their hard work in this exceptional restoration."
On 1 April, children's activities will be free. The mill has a gift shop, car park, accessible toilet and an attractive picnic area. Visitors are encouraged to bring their own picnic and to enjoy the grounds. A gentle slope provides access to the upper floor of the mill for wheelchairs and pushchairs.
Pictured - Left to Right: Richard Elmitt (Miller); Chris Hocking (Miller); Kate Harland (Museums and Heritage Manager) and Malcolm Cooper, Master Millwright.