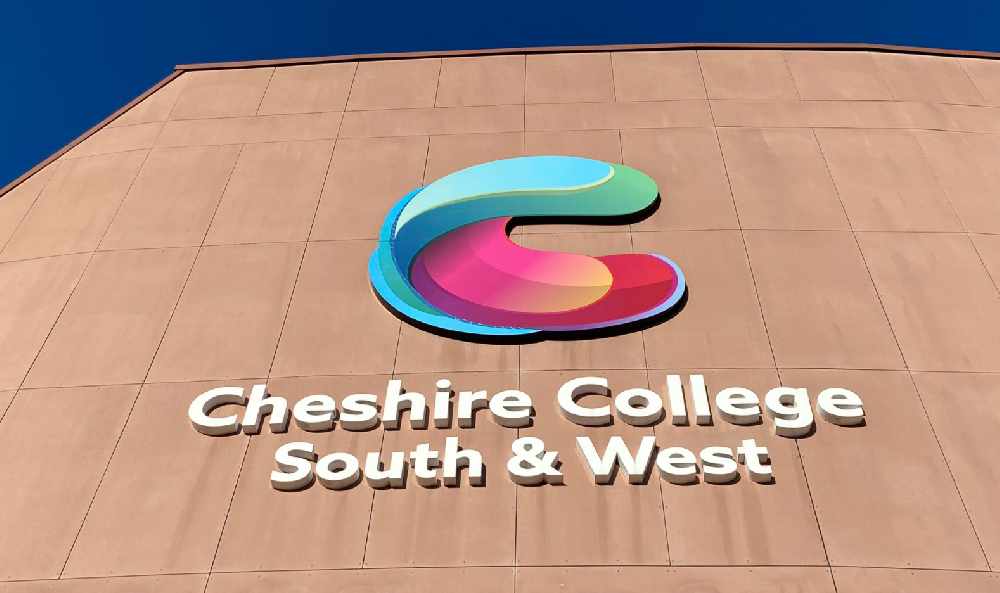 Over 400 laptops have been distributed to Cheshire College learners, helping teaching, learning and assessment to be carried out remotely over the last 12-months.
The 'One Million Laptops programme' announced in December 2020, guaranteed over one million devices would reach schools, colleges and councils, helping ensure learners have access to high-quality remote education if they need it.

Dhesi, Principal and CEO at Cheshire College, said: "No learner should miss out as a result of the disruption caused by the Coronavirus pandemic. That is why it has remained our priority to equip learners with the resources they need to succeed. The delivery of laptops from Government funded schemes, has enabled us to provide every learner at our College, who would have otherwise been digitally excluded, with a device to access remote learning.

"This has ensured all learners have the same opportunities as each other to access work and stay in touch with their tutors and peers. Learners who received devices from the College have been extremely grateful and have demonstrated their eagerness to learn through high engagement via our virtual learning platforms."

David Hughes, Chief Executive of the Association of Colleges, said: "This access to digital devices is a welcome step forward for college learners. It means they will be able to engage fully in their learning as a result, receiving the high-quality education they deserve at all times. It is vital that our learners are able to progress in their education as they should."

Following the Government's 'Roadmap out of lockdown', Cheshire College began to welcome all learners back to their three Campuses in Crewe, Ellesmere Port and Chester last month and the laptops have continued to support teaching to ensure the College is able to provide the very best learning experience.
Having implemented a number of protective measures at the start of the academic year, including one-way systems, social distancing, thermal imaging cameras, face coverings and hand sanitising stations, the College has now also introduced asymptomatic testing at all Campuses to ensure face-to-face teaching can be conducted as safely as possible.

To learn more about studying at Cheshire College – South & West visit ccsw.ac.uk and register for the College's next Virtual Open Day which will be taking place on Monday 26 April. Attendees will be able to chat to subject specialists, find out more about courses and facilities, get guidance on applications, funding and travel, as well as take part in a live question and answer session designed to give a flavour of College life… there has never been a better time to 'Get In, Stand Out'.
Cheshire College is the largest provider of post-16 education in the region offering exciting opportunities to 11,000 learners and 1,400 Apprentices.
Their modern Campuses across Cheshire in Crewe, Ellesmere Port and Chester have world-class facilities which are the result of a £140m investment in the latest technology and real work environments.
The College provides learners with the skills, experience and qualifications that will prepare them for their future career or higher-level study and encourage them to become confident individuals who will make valuable contributions to businesses and the local economy.
With extremely important values which guide the way they work with each other, their partners and within communities, Cheshire College empower individuals and nurture talent, taking the time to listen, help and care, whilst always acting with honesty, integrity and trust.
Cheshire College offers a range of courses from Entry Level to Level 7 in: A Levels; Full-time courses; Apprenticeships; Part-time courses for adults; Access and Higher Education courses; bespoke training for employers; Maths, English, IT and ESOL courses for adults; programmes for International learners; Futures Programme for learners aspiring to progress to university.
They are also the only Further Education College in Cheshire to have been selected by the Government to offer a new two-year qualification, T Levels, from September 2021.
Cheshire College works with key stakeholders and leads on initiatives to provide high-quality education for all ages in Crewe, Ellesmere Port and Chester.
They also work with employers, industries and organisations to drive economic growth through the development of future e-focused skills.
Cheshire College is on a mission to develop digital across the community with their new five-year project, 'The Digital Hub', which is part of a £5m investment made by Cheshire and Warrington LEP. The Digital Hub aims to deliver skills and career pathways in additive manufacturing and Virtual and Augmented Reality, as well as improve Advanced Manufacturing Skills to expand digital infrastructures in existing workforces and facilitate access to technology within community organisations.
The College has strong links with local businesses of all sizes and work with many major employers such as Bentley, Brownlow Furniture, Ecolab, Vauxhall Motors, Scottish Power, Unilever, Brunning and Price and National Grid.
Cheshire College are an approved Apprenticeship provider and can support local employers who are using the Levy system to recruit and train Apprentices within their business.