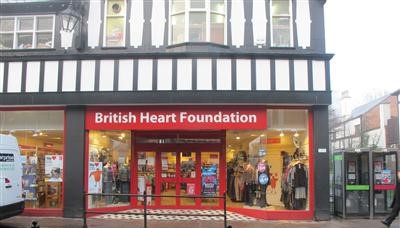 A survey shows shoppers in the North West expected to shop second-hand to save money and support those in need, following pandemic.
Charity shops could be vital to the recovery from the coronavirus pandemic by helping people save money, shop sustainably and fund charitable services, according to a new survey.
The survey commissioned* by the British Heart Foundation showed that nearly a third of adults in the North West (30%) feel that charity shops are more important to society following Covid-19, while just under four in ten (36%) agree that being sustainable and thinking about the environment when they shop is more important than before.
Of those who think charity shops will be more important for society in the North West:
• Nearly three quarters (72%) say it's because charity shops provide affordable items to those with financial concerns.
• Just under three in four (69%) say it's because they raise funds for charitable causes at a time many of these causes are in high demand.
• Nearly three in five (59%) say charity shops are vital because they prevent items from being thrown away.
• Over four in ten (43%) respondents say they provide jobs and volunteering opportunities in community at a time the UK is facing recession.
Last year alone, thanks to the generosity donations to our shops the BHF helped re-use an incredible 71,000 tonnes of items and prevented 135,000 tonnes of carbon dioxide emissions from being released into the atmosphere. The BHF say the Covid-19 crisis has highlighted the benefits charity shops bring to the economy and consumers, from saving people money, to preventing items going to waste and funding causes that have given vital support to people during this time. The charity hopes its shops will be a first stop for those wanting to declutter and donate as people are more conscious of these benefits than ever.
Allison Swaine-Hughes, Retail Director at the British Heart Foundation, said: "This pandemic has been devastating for so many of us and the reopening of charity shops is going to be vital for millions as we look to recover. Charity shops provide high quality items at affordable prices, power charitable services that have never been more in demand, re-use thousands of tonnes of items and provide a community space for so many volunteers and customers."
"Every pound raised in our shops helps us to support the 930,000 people in the North West living with heart and circulatory diseases, many of whom are at increased risk from Covid-19. Shopping at the BHF will help us, help them."
At the end of March, the BHF temporarily closed its 750 nationwide shops in order to protect staff, volunteers and customers. The charity has since revealed that its funding budget to support research into heart and circulatory diseases may be reduced by £50 million this year and needs the public support more than ever to maintain progress.
Just £16 worth of your donations can support an early career scientist in carrying out an hour's research and £25 gives a researcher an hour's access to equipment. If your donations raised £100, this would fund a DNA extraction kit to identify genes linked to heart and circulatory diseases.
To find your local BHF shop visit: www.bhf.org.uk/shop.
• Each year, British Heart Foundation (BHF) shops raise around £27 million to help the BHF fund life-saving research into all heart diseases, stroke, vascular dementia and diabetes.
• The BHF has around 750 shops across England, Scotland, Northern Ireland and Wales including 550 Standard shops and over 200 Home stores, selling up to 85,000 items every day.  
• Each year, the BHF eBay shop sells around 150,000 high value and unusual items to raise funds for heart and circulatory diseases. 
• The BHF is fortunate to have over 17,000 volunteer opportunities in its shops. Nearly a quarter of employed retail positions are filled by those who have previously volunteered for the BHF. 
• To find your local shop visit bhf.org.uk/shop.
• You can now post your donations for free by downloading a postage label online and dropping it off at your local Collect+ store. To download your label visit: https://www.bhf.org.uk/shop/donating-goods/post-your-donations
• With donations from the public, the BHF funds ground-breaking research that will get us closer than ever to a world free from the fear of heart and circulatory diseases. A world where broken hearts are mended, where millions more people survive a heart attack, where the number of people dying from or disabled by a stroke is slashed in half. A world where people affected by heart and circulatory diseases get the support they need. And a world of cures and treatments we can't even imagine today. We are backing the best ideas, the brightest minds and the biggest ambitions - because that's how we'll beat heartbreak forever.