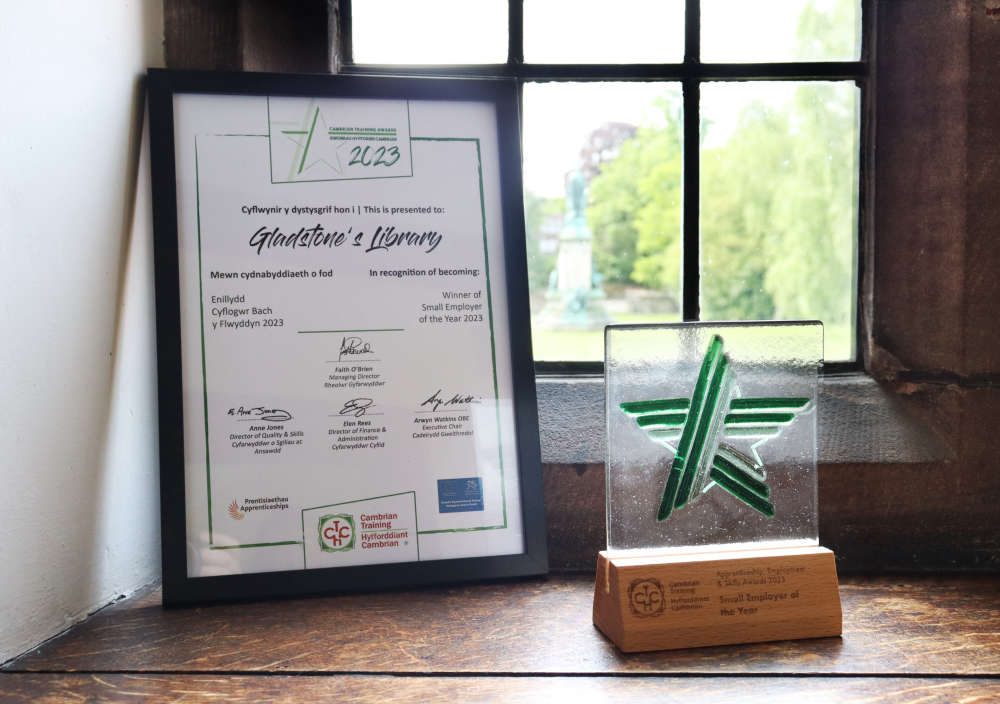 Staff at Gladstone's Library in Flintshire have been honoured with a prestigious Small Employer Award.
On May 17, members of the residential library's restaurant team attended an awards ceremony held by Cambria Training, which provides apprenticeships support.
The Library, based in Hawarden, clinched the Small Business Award, which acknowledges the efforts of small organisations to foster a positive work culture and nurture employee growth.
Oussama Mantache, operations manager at the Library, has worked closely with apprentices Will Pritchard, Charlie Pritchard and Gareth Messham, who work in the Library's restaurant, Food for Thought.
Oussama attended the awards ceremony, held at The Metropole hotel and spa in Llandrindod Wells, alongside his colleagues.
He said, "I'm absolutely full of pride. It's a credit to the apprentices themselves and the organisation for allowing them to learn the job and progress.

"It's a team effort; everyone on the restaurant team supports each other. By working with our Head Chef, Matt, they benefit from his 18 years' experience in the industry."
Andrea Russell, Warden of the Library, said it was gratifying to offer staff the flexibility to adapt to new ways of doing things and giving them the safe space in which to do this.
She said: "Gladstone's Library is a centre of learning for guests, so naturally it should be a place for employees to learn, too.

"Our hospitality team is a crucial part of what we do here, and the apprenticeship programme, carried out with the support of Cambria Training, has allowed us to retain ambitious employees who can develop their skills and abilities within their current roles."
Located within Gladstone's Library, Food for Thought restaurant is open both to residents staying at the Library and to walk-in dining guests who come in for lunch, dinner or light snacks.
Pictured - Will Pritchard, Charlie Pritchard and Gareth Messham and the award in situ at the Library.
Picture credit - Geoff Scotland/@himynameisgeoff