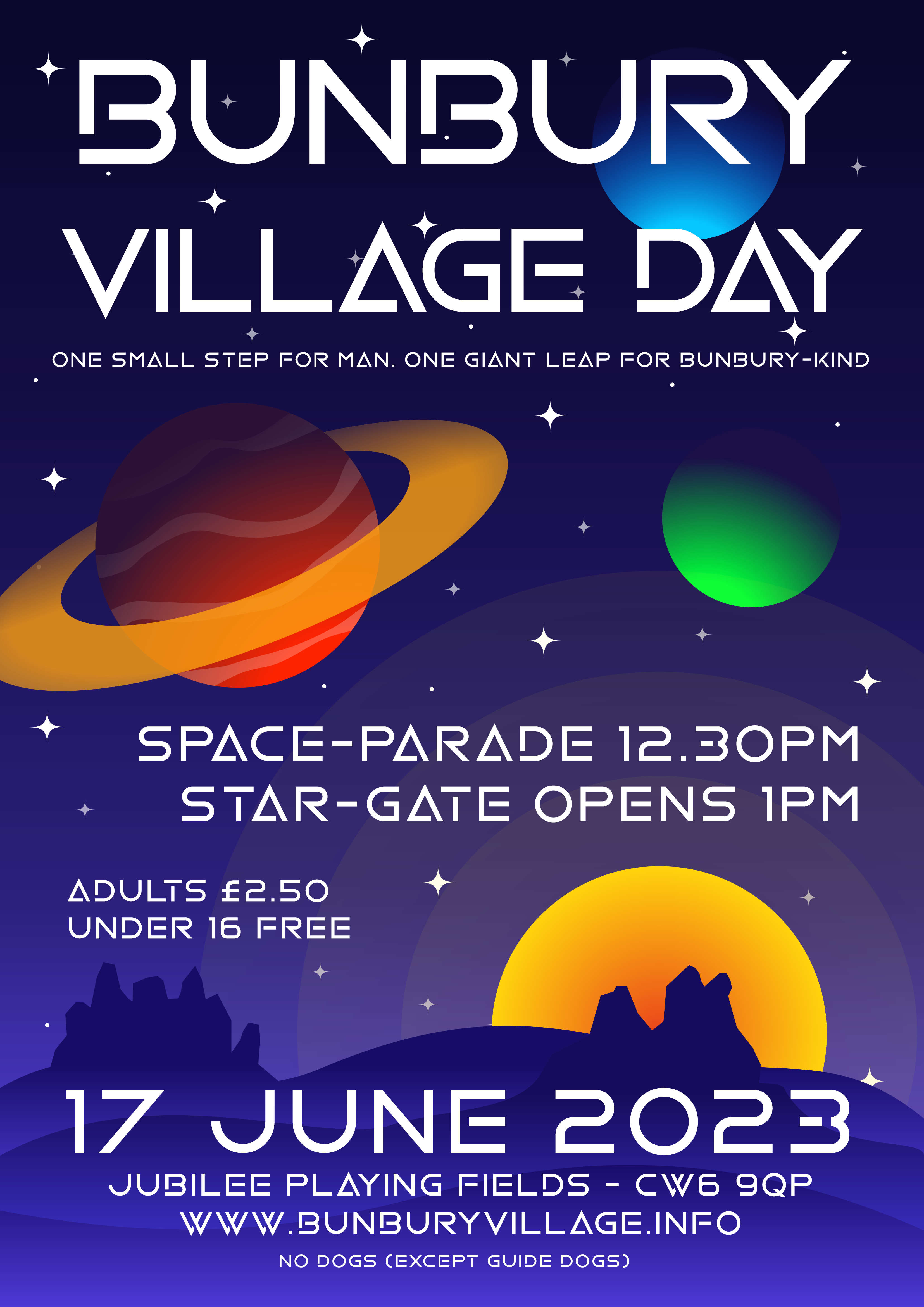 The Bunbury Village Day Team are delighted to announce that on Saturday 17th June they are planning to boldly go where no man (or woman) has gone before…. SPACE!
It's now time to use the force and start planning your space themed costumes. We are looking forward to seeing an array of stars, planets, astronauts and aliens join our Space Parade; and don't forget there will be prizes for the best dressed!
Our one-day mission is to explore strange new worlds, to seek out new life and new civilizations. Space themed sports, challenges and displays will be sure to keep you entertained through the day, not to mention the Wonderdome planetarium which will provide an incredible way to learn about the wonders of space.
This greatly anticipated day will also include the much-admired Chester Brass Band, Bunbury Royalty - the Rose Queen, Rose King and their attendants, a well-stocked bar, a mouth-watering BBQ, a myriad of stalls, the classic WI café, thrilling fairground rides…. the list goes on!
And by popular demand we will bring the day to a finale with two great bands, Green Bullet, who blew the roof off their tent last year, with their high energy mix of rock, punk and indie covers and the very welcome return of Bunbury based The Easy Peelers who love nothing more than getting a crowd dancing and singing along, playing everything from The Beatles to 90s indie, from Motown to recent chart hits.
For more information:
www.facebook.com/BunburyVillageDay
www.instagram.com/bunburyvillageday
www.twitter.com/BunburyDay
www.bunburyvillage.info
Bunbury Village Day, Jubilee Playing Fields, Hurst Close, Bunbury, Cheshire, CW6 9QX.
Unfortunately, no dogs are allowed on the Playing Fields.