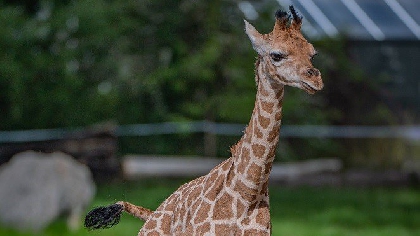 A one-week-old giraffe calf, born at Chester Zoo, has ventured outside to play for the first time.
The not-so-little youngster, who already stands at just over 6ft tall and weighs more than 80kg, spent an hour running around and getting know her extended family – after spending a week bonding indoors with her mum, Orla.
Keepers have named the female calf 'Karamoja' after the region in Uganda where zoo conservationists are working to protect some of the last remaining populations of wild Rothschild's giraffes in Kidepo Valley National Park.
Karamoja is the second Rothschild's giraffe to be born at the zoo in the space of just two months. She came hot on the heels of her eight-week-old brother, Mburo.
Conservationists at the zoo have hailed the duo as vitally important additions to the global breeding programme, which is working to safeguard the future of the species.
Mike Jordan, Collections Director at the zoo, said: "Having had a succession of boys born here in recent years, it's wonderful to now have a little girl running around too. "Karamoja, or 'Mojo' as the keepers have been calling her for short, has bonded really well with her mum Orla over the past week and so it's now time for her to be introduced to the rest of the herd. She's full of energy and will certainly be keeping the herd busy, especially now they have two youngsters to contend with.
"The birth of a Rothschild's giraffe is always reason for huge celebration, particularly given how few they number in the wild. But to have two born in the space of just eight weeks, one male and one female, is a terrific double boost for the breeding programme that's part of a coordinated effort to prevent their extinction."