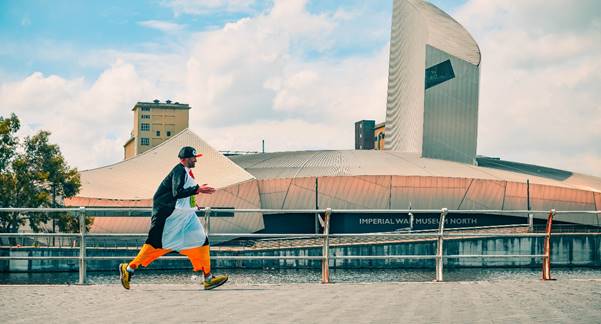 Adventurer Brendan Rendall is set to complete a gruelling 1204 mile (1937 km) running challenge, to raise vital funds for Chester Zoo's Save Our Zoo campaign.
The 41-year-old, from Salford, began the task 55 days ago, running a half-marathon every day in June and a full-marathon every day in July, all in animal-themed fancy dress.

His costumes have included inflatable rhino and penguin suits, and a two-metre tall giraffe ensemble.

Brendan has been taking on the exhausting challenge to raise vital funds for Chester Zoo's Save Our Zoo campaign after the coronavirus crisis, and a three month period of forced closure, has put the UK's largest charity zoo at risk of extinction with a huge £5m hole in its finances.

Now, Brendan is calling for one last fundraising push and other runners to join him for parts of final leg of his run from Salford Quays to Chester on Monday (3 Aug). Volunteers already include zoo staff.

Brendan said:

"I have been working with children and adults with special educational needs for 10 years and have visited Chester Zoo many, many times. It's a very special and inspiring place and one that plays a vital role in wildlife conservation.

"When I heard about the zoo's plight due to the coronavirus pandemic and saw it had launched its urgent Save Our Zoo campaign, I had to do something to help. That's when I decided to test myself and take on this fancy dress running challenge. With the year we're all experiencing so far, I just wanted to do something fun, make people laugh, smile and inspire them to donate."

While taking on the challenge so far, Brendan has battled soaring temperatures of over 30C, storms and torrential downpours.

His efforts have taken their toll on his body, including blisters and Lycra chafing.

Dr Mark Pilgrim, Chief Executive Officer at Chester Zoo, is one of those who will be accompanying Brendan on his last mile. He said:

"Although the zoo is now reopen, which is simply vital to our future survival, there's still a long way to go before we're fully back on track. Our closure due to the pandemic has left a huge £5.5m scar and so we can't get away from the fact that there will be some very challenging times ahead. That's why we're so incredibly grateful to our wonderful supporters, like Brenden, who continue to fundraise for us – taking on all manner of whacky, gruelling and remarkable challenges. We're truly overwhelmed by the kindness that's being shown to us when times are hard for everyone, not just us. It's absolutely crucial to us, and it's helping to ensure that this great charity zoo has a future."

To donate to Brendan's challenge, please visit: https://www.justgiving.com/fundraising/brendan-rendall3

About Brendan's last run
· Brendan will be setting off from Salford Quays on Monday 3 Aug
· He'll be taking the canal route from Salford Quays to Altrincham
· He'll then follow the Trans Pennine Trail to B5156 to Stockton Heath
· From Lower Walton, he'll follow the A56 to the zoo (which will see him run through Frodsham and Helsby)
· His estimated arrival at Chester Zoo is around 5pm (Please note there will be no access to the zoo for anyone accompanying him on his last leg but there will be access to the zoo's Diamond Jubilee Quarter).