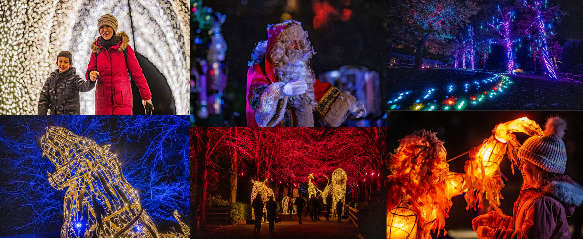 Chester Zoo has released exclusive images showcasing is biggest and brightest light trail ahead of its grand unveiling on Friday.
First images show a variety of colourful new features to this year's line up, including ultraviolet rainforests, new interactive animal characters, a walkway of giant- pea-lit animals and a stunning fire garden.

New installations also include a world-first giant 3D interactive woolly mammoth hologram, named Matilda, who will be taking centre stage along with a selection of fun-filled fairground rides and traditional Christmas markets.
All funds raised from ticket sales will go towards the charity zoo's efforts in helping nature thrive around the world.
Tickets are now on sale for Lanterns and Light which is running from Friday 17 November to Sunday 31 December 2023, with entry slots from 4pm – 8pm.
To book tickets or to find out more, visit:
www.chesterzoo.org/lanterns-and-light/
Chester Zoo is a world-leading conservation and education charity that's committed to preventing extinction and dedicated to raising awareness of key conservation and environmental challenges.
The zoo's 128-acre site in Chester, which is home to more than 27,000 animals and more than 500 species, is where this species-saving work is made possible.
As a not-for-profit, the zoo ploughs everything into its conservation mission, both here in the UK and around the world.
It works with more than 3,000 species globally, including 140 international animal conservation breeding programmes, which are ensuring the survival of species on the very brink of extinction. It's also home to five national plant collections, comprising of more than 1,000 species.
Experts from the zoo are recognised by governments and NGOs across the world as leaders within the global conservation community. Currently, the zoo is saving species on behalf of the Bermudan, Spanish and Portuguese governments, among others.
The zoo works with over 100 partners in more than 20 countries to recover threatened wildlife and restore habitats, including orangutans in Bornean rainforests, elephants and tigers in Indian grasslands, lemurs and frogs in Malagasy forests, rare fish in Mexican lakes and a host of species here in the UK.
The zoo influences policy both in the UK and internationally, engaging with governments worldwide to take action to halt the biodiversity crisis.
It's millions of annual visitors and huge online communities are part of the educational, scientific and conservation jigsaw, empowering them to be part of solutions for wildlife, creating a future where nature can survive and thrive.
Chester Zoo lives and breathes conservation – from its animal and plant care, to its scientific breakthroughs, to its policy work and its vital role in inspiring and educating people about the natural world and the impact humans have on it – creating and nurturing the conservationist in us all.