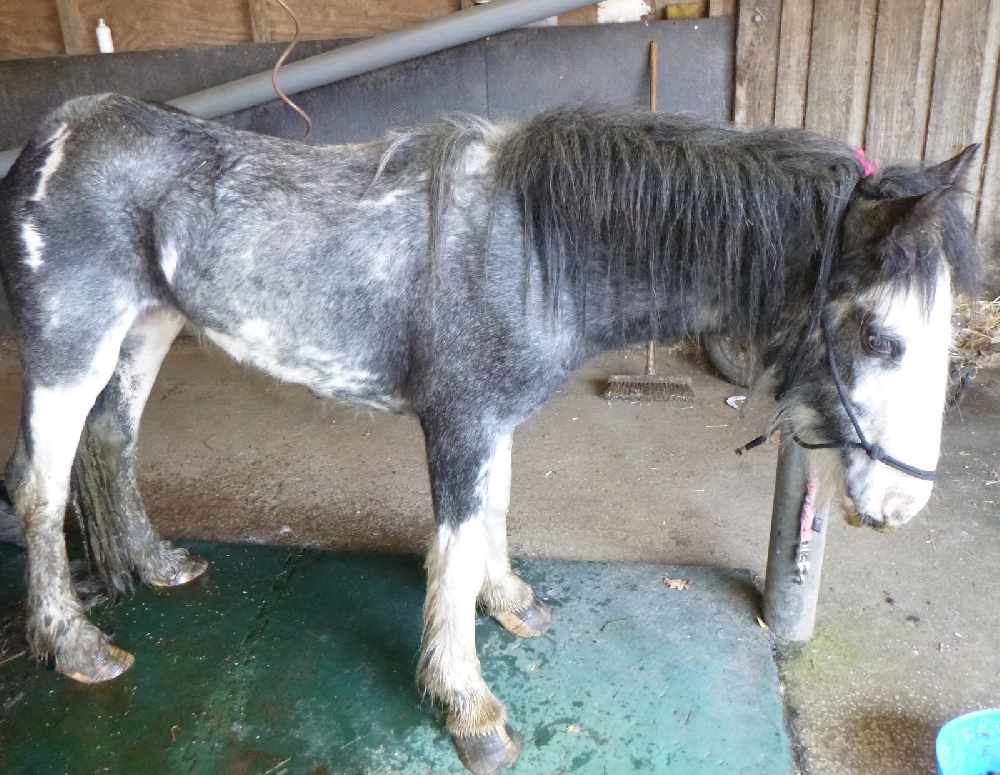 RSPCA braces for influx of sick and abandoned horses following the pandemic that will cripple resources, despite new microchipping law coming into force.
As the microchipping of horses becomes compulsory in England this month, the RSPCA fears it will not be enough to prevent an impending horse welfare catastrophe - as the charity reveals that it dealt with 84 incidents involving horses in Cheshire during the Covid crisis.
As the charity launches its month-long rehoming drive, Adoptober, it reveals that nationally the number of horses in its care is already three times what it was at the start of the last recession in 2009, and said it is braced for huge numbers of abandoned and neglected horses as the country plunges into an even deeper financial downturn.
During the lockdown period of 23 March to 8 September alone, the RSPCA dealt with 4,479 incidents involving horses - including 84 in Cheshire.
Last year (2019) the charity rehomed 242 horses, but almost 760 remain in the charity's care to date, desperately needing new homes.
At the time of the last recession, the RSPCA had 250 horses in its care in 2009, but following that downturn, numbers peaked at nearly 1,200 in 2013.
The RSPCA is expecting more horses to be abandoned or neglected as a result of the Coronavirus pandemic and the deepening recession and is urging people who are looking to take on a horse to think about adopting one from the charity.
Two RSPCA horses looking for new homes are:

Name: Flo
Age: 6
Breed: Middleweight Cob
Where: RSPCA Gonsal Farm Equine Centre
A bit about: Flo was rescued from neglect by RSPCA Inspectors in Wales
Why she's special:. She is a very sweet mare, standing at 13.2hh, who will follow you around the field. Flo is good to catch, lead and groom and would be best suited as a companion.
More information: To find out more about adopting Flo please visit her page on the RSPCA website on Find A Pet.
Name: Sienna
Age: 10
Breed: Middleweight Cob
Where: RSPCA Gonsal Farm Equine Centre
A bit about: Sienna was rescued by RSPCA inspectors in the Midlands
Why she's special:. She is a lovely mare who is good to catch and groom. She needs to gain more confidence with having her feet picked out and the farrier, so she is looking for a home that will continue this work with her.
More information: To find out more about adopting Sienna please visit her page on the RSPCA website on Find A Pet.
Although the RSPCA welcomes the change in the law to make microchipping of all equines mandatory irrespective of age, as it is for dogs, it warns the move is not enough alone to tackle irresponsible breeders and owners at the heart of the equine crisis, which has now raged for eight years.
At the same time, many animal welfare organisations have seen donations plummet during the pandemic, and there is already huge pressure on resources. Animal welfare charities received no specific financial help during lockdown and the RSPCA is calling on the government to give financial support to the sector for its vital work during one of toughest years in RSPCA history.
Chris Sherwood, Chief Executive of the RSPCA said: "Equine charities fear that autumn will create the perfect storm as grazing decreases, the end of furlough and the deepening recession will see more owners struggling with costs of care leading to neglect and abandonment, yet people have been continuing to breed horses despite Covid.
"Alongside this, equine rescues, already reporting a sharp drop in funds, may start to go under as the financial situation bites, which will increase the burden on the RSPCA. We are calling on the Government to step in with financial support as they have for other charities affected by the pandemic and recognise that the vital services provided by the animal welfare sector are under huge strain."
New legislation demanding compulsory microchipping of all horses irrespective of age is set to come into effect in England this month; currently around 70% of the horses we rescue are not microchipped.
Chris said: "When it came in for dogs, the number of strays reduced by 20% in four years, but unfortunately we just don't think that's going to happen for horses. Without rigorous enforcement and tough financial penalties, there is little to stop irresponsible horse owners continuing to breed and dump their animals.
"Local authorities, who are in charge of enforcement of equine identification regulations, are already operating with extremely limited resources and are facing the huge challenges of Covid, the recession and Brexit.
"The RSPCA and other equine welfare organisations have been struggling to pick up the pieces of the horse crisis since the last recession and as we enter what could be the biggest financial downturn of a generation, the sector is already bursting at the seams and facing unprecedented challenges due to the pandemic."
The charity's equine staff are appealing to experienced horse owners across England and Wales to consider rehoming a rescue horse if they possibly can. This month as the charity's rehoming campaign Adoptober launches, staff are keen to showcase the versatility and capability of the horses they rescue, whether they are ridden horses, companion animals or youngsters with heaps of potential.
Throughout the month of October, the RSPCA is shining a light on animals in its care which need a new home and promoting the benefits of adopting a rescue animal through its Adoptober campaign. The RSPCA is the UK's biggest rehomer, finding 39,178 homes for pets last year - that's 107 a day, or four an hour.
Under the current Covid rehoming protocols anyone interested in fostering or adopting an animal from the RSPCA should visit the website to see which animals are available near you and should check with their local centre for the current process applicable in that area.
Due to the amount of interest we are receiving and the impact of Covid on our staffing levels, please bear with us as our centres are very busy at this time. To find out more please visit www.rspca.org.uk/coronavirus