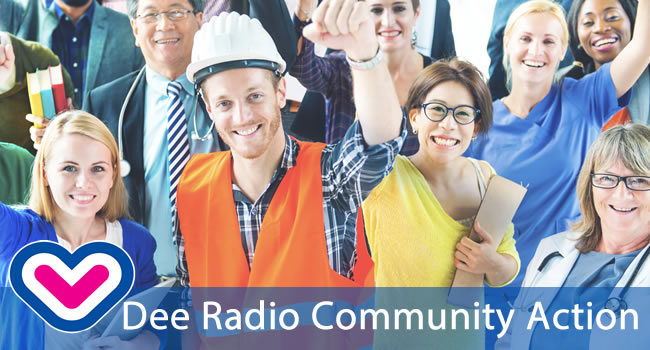 Chester's Dee Radio is your local radio station, broadcasting to the community and here to help you when you need us most. Our on air community action bulletins are designed to bring the community together as a whole. If you are able as an individual, group or company which can help our community then please fill out the form below and we will let our listeners / readers know. Your support is greatly appreciated.
The Latest Government Advice regarding Coronavirus (COVID-19) HERE
The latest NHS Guidelines and Information regarding Coronavirus (COVID-19) HERE
Countess Of Chester Hospital - Visiting Time Changes - HERE
Arriva Bus Timetable Changes HERE
LIVE WELL with Cheshire West and Chester Council - HERE
How Can You Help Our Community?
NHS Mental Health Crisis Line
Open 24 hours, 7 days a week - Anyone can call if needed to talk to dedicated mental health professional - 0300 303 3972
Here are some of the offers of help.....
Laura Campbell Jupp - Talking to someone over the phone, Getting shopping / prescriptions, Walking a dog
I'm near Handbridge and have a car Happy to help anyway I can, stay safe. Contact - laurajcj@yahoo.com
Gill Dowling - Vicars Cross - Happy to help with shopping, picking up prescriptions - Contact - gill.dowling@gmail.com
Belinda Richards Brown - I can drive i live in Blacon, i can shop collect prescriptions or whatever. I can phone people if they just want someone to talk to. Contact - belindarichards75@googlemail.com
Ian Button - I am able to assist someone in the Boughton,Huntington area who is either vulnerable or self isolating.with dog walking,,collecting prescriptions. Contact -vbutton@btinternet.com
David Kenworthy - Happy to help with dog walking or shopping. Contact - Kenworthyd789@gmail.com
Helen Rutherford-Gregory - Sister Hub - SisterHub is a supportive women's business network, especially for the self employed.To find out more information click HERE
Stephen Cattermole - I am still at work,but all my mornings are free. I own a car, and would like to offer any assistance to those who would like any help with shopping,talking on the telephone or such like.
I live alone in Crewe, and hoping that I am able to assist someone who is either vulnerable or self isolating.
Contact - stephen.cattermole41@hotmail.com
Karen Bridges - I can get take the dog for a walk do shopping and collect tablets and anything else. Contact - karen-b-1@hotmail.co.uk
Harriet Kinsey - Newtown near Northgate arena. I can offer local pick up of food, collect prescriptions, help with postal service drop of or utility payments at pay points etc. I can also offer advice on wellness and mental health due to my business background. Contact - Harriet - Innercitybeautychester@gmail.com
Jess Cooke - Keeping in touch with people who are self isolated, getting shopping, walking dogs, collecting prescriptions, whatever is needed :) Contact - Jess - jesso0783@gmail.com
Nanny Biscuit Community Group - Nanny Biscuit is a community group helping vulnerable residents of Flintshire during this Corona Virus outbreak. If you are self isolating we can help with the following - Pick up shopping, post mail, a friendly chat, urgent supplies. Contact - nannybiscuit@gmail.com,
Kingkabs - Nigel and his team are still open and available for NHS workers, elderly / vulnerable people, in fact anyone who needs help to get to pharmacy, supermarkets etc. Just give them a call and they will be able to assist - 01244 343434 or book online HERE
CH1 Chester BID - Have launched #ChesterTogether campaign on facebook, and can offer more than 40 ways the city centre is supporting residents with groceries, food/drink deliveries, local online retail, and more.
Search #ChesterTogether. Find out more about CH1 Chester BID HERE
Alan Bark (Action Coach) - To help the business community, I'm offering 10 x 1 hour FREE strategy sessions for business owners based in and around Chester. We can look at your cashflow, marketing, staff, management style or anything else you feel is causing you real problems right now. I'm also running a series of FREE webinars for business owners to tune into, discussing steps they can take to protect their business and continue moving forward. Contact - HERE