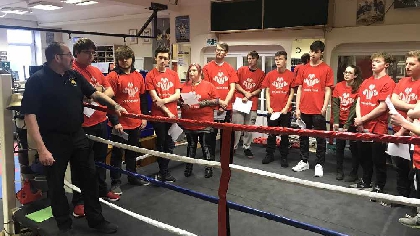 A sports and fitness centre in Ellesmere Port has been given a revamp by young people, as part of a Cheshire Fire and Rescue Service-led Prince's Trust Programme.
The team of 14, aged between 16 and 25, have been busy painting the indoor gym facilities in the club's colours at Golden Star A.B.C Sports and Fitness Centre, Princes Road, Ellesmere Port.
They transformed the interior of the building creating custom colourful murals and carrying out DIY tasks to make it a nicer environment for its users. To help fund the cost for the project the team bag packed customers shopping at Asda in Ellesmere Port in exchange for donations.
As part of the 12-week Prince's Trust programme the team had to complete a community project to graduate and picked the indoor gym facilities to work on.
Stuart Baxter is the programme manager for the Ellesmere Port Prince's Trust Team and oversaw the project. He said: "This is a brilliant facility for local people to use and looks amazing now the team have updating the interior.
"The whole team should be very proud of how hard they have worked to get the project finished, within budget and on time, ready for the handover. It's now a nice space for everyone to use."
The Prince's Trust Programme aims to move young people into full time employment. By doing this community project it helped them to not only gain practical experience but also skills in how to project manage and budget.
The finished project was unveiled in front of dignitaries, Cheshire Fire Authority members and Cheshire Fire and Rescue Service staff on November 8.
The Prince's Trust Programme is led by Cheshire Fire and Rescue Service and gives young people between the ages of 16 and 25 the opportunity to learn new skills, complete qualifications and gain greater self-confidence. The primary focus is on team work within the community so the Team is looking for local placements in a variety of roles.
Over the 12-week course the young people look to push themselves physically and mentally and the community project is part of the programme.