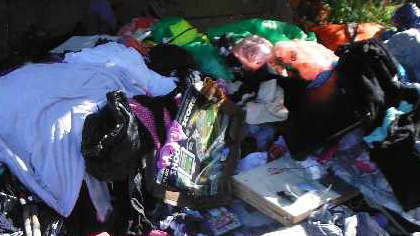 An Ellesmere Port man has been ordered to pay a total of £1710 after being prosecuted for fly-tipping by Cheshire West and Chester Council.
Martin George McVeigh, who lived at Fotheringay Court, Ellesmere Port at the time of the offence, was photographed fly-tipping a large pile of domestic waste at the back of the Beech Tree Inn car park in Northwich.
An investigation was started in September 2017 when the Council's Regulatory Services team received a report from a local man saying he had seen a man with a van dispose of the waste. Mr McVeigh was caught in the act, as the witness also took a photograph which was later used in court.
Mr McVeigh was traced and subsequently interviewed under caution when he admitted the offence.
Chester Magistrates' Court issued a warrant for his arrest without bail after he failed to attend court on 4 October 2018.
He was arrested on Tuesday, 9 October 2018 and brought before the court. His solicitor told the court that he was a man of previous good character, and had found the process of being arrested and kept in custody very traumatic.
The prosecutor showed the court the photograph taken by the quick-thinking neighbour and a photograph showing the substantial scale of the waste Mr McVeigh had dumped.
The Court imposed fines and costs totalling £1710. Mr McVeigh received a fine of £1330 for the fly-tipping offence and was also ordered to pay costs of £250 and a victim surcharge of £130.
As well as the environmental impact of making our streets look dirty and untidy, it costs the Council around £600,000 a year to clear litter and fly-tipped waste in the Northwich, Ellesmere Port and Chester areas.
The Council's Cabinet Member for Environment, Councillor Karen Shore said: "On this occasion the offender was caught red-handed on camera by a vigilant local resident who then reported the incident.
Please help us tackle this problem and report inconsiderate fly-tippers, who still think they can dispose of rubbish wherever they want causing problems for residents and draining Council services. Fly-tippers be warned – we are all watching you.
"Following previous successful prosecutions, this case will hopefully act as a deterrent to potential offenders and make them think twice before fly-tipping waste. In some cases offenders can be sent to the Crown Court, where the penalty is up to five years imprisonment."