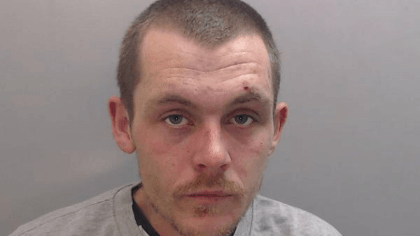 An aggressive beggar has been jailed for 21 weeks for theft and breaching his criminal behaviour order (CBO) in Northwich and Chester.
Jamie Tomlinson, 27, of no fixed abode, was jailed at Crewe Magistrates Court for one count of theft and two of breach of CBO.
Tomlinson had approached a group of school children on September 21 in Northwich town centre and asked for money. He claimed he was on probation and needed money to get to a police station.
One of the teenagers gave Tomlinson £5 but Tomlinson asked for a £10 note and said that he would give the teenager some change. The teenager gave him the £10 but Tomlinson ran off with both notes.
He was later arrested in Northwich. He was already wanted by police for entering Chester city centre when he was banned by his CBO.
Tomlinson is banned under his CBO from entering Chester city centre, from begging, from approaching members of the public to ask for money or swap change, enter any car park in Cheshire and from entering any public toilets in Cheshire for the purpose of taking drugs.
PC Nicola Sharp said: "Tomlinson uses aggressive tactics and fake sob stories to get people to hand over money. In this case he targeted a young person minding their own business.
"The courts have recognised the seriousness of this case in targeting a young person and putting him under pressure in a very unpleasant way."