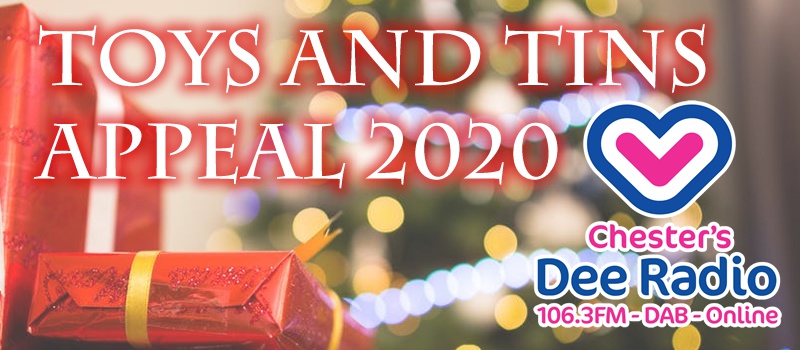 The Christmas Toys and Tins Appeal is back with Chester's Dee Radio and it's needed more than ever before!
We are looking for your help to buy either an extra new and unwrapped toy to be donated to children who may not receive a Christmas present this year, through no fault of their own or a tin / non perishable item to be donated to older and vulnerable people throughout the area to help ensure they have enough food to eat this Christmas.
You can drop off your donations to one of the nominated charity points below:
To donate to Save the Family Local Solutions and the Round Table.
Approximately 50 families, 80 children.
You can drop off your donations to:
Share Shop
50 Northgate Street
Chester
CH1 2HA
07549869510
Dandy's Topsoil
Sealand Road
Chester
CH1 6BS
01244 280008
Requesting new toys for children aged 0-18. In particular toys for 14-18 age group would be welcomed.
Also tinned food, dried food and pasta, tea, coffee etc. Food that will last.
To donate to CATH (Chester Aid for The Homeless) please drop off toys and tins donations to:
CATH (Chester Aid for the Homeless)
24 Grovesnor Street
The Harold Tomlins Centre
CH1 2DD
Contact: 01244 314834
To donate to the Domestic abuse Safety Unit, please call before dropping off your toys or tins to:
Wrenmore House,
104 Chester Road East
CH5 1QD
01244 830436 Or Wrexham: 01978310203.
Flintshire Children's Services are asking for donations that cover age groups 0-21 and food. The drop off point is:
Mold County Hall,
CH7 6NB.
Chester Children and Families Social Care:
Nicholas House
1 Black Friars
Chester
CH1 2NU
Tel: 01244 973137
Contact: Marilyn or Abi.
They're asking for general Christmas gifts and food for children and families
New Beginnings, Unity House,
4 York Road,
Ellesmere Port,
CH65 0DB.
Phone number 0300 303 4550
Contact: Mandy Casey.
Here are some of the other charities we support with our Toys and Tins Appeal each year – if you can help then please do, your donations are gratefully received:
Save the Family, City Mission, Weavervale Housing, Young Addaction Halton, Sunraye Hostel Connahs Quay, Chester Children in Need, DASU refuges Flintshire, P3, Blacon Children's centre and Donna Alcock - Lache Christmas hampers. (you can contact Donna on 07596 350105)
Your donations are really welcomed to help put a smile on faces across the area.
The charities will make sure that your gifts are distributed to children and older/vulnerable people in time for Christmas.
The Toys and Tins Appeal with Your Station – Chester's Dee Radio
For more information, queries or questions on our Toys and Tins Appeal please fill out the form below and we'll be in touch.